Environmental Guardians Programme – Years 1-3
The Environmental Guardians programme represents a collaboration between teachers and parents. It delivers structured skills development through an environmental lens which priorities experiential learning. All Enviro School resources are situated in the Alpha Central Hall which is open 24/7.
The Enviro School Curriculum
The Enviro School learning curriculum, based on Cambridge International, is extensive and consists
of the following components:
Literacy Development - building the foundations of reading fluency and written expression. Our children learn by becoming authors and publishers. We provide the skills development; they create their unique reading texts.
Mathematical Understanding - development of numerical fluency and mathematical reasoning. While we prioritise numeracy, graphing, and measurement, we also lay the foundations for geometric and algebraic reasoning.
Integrated Studies - topics covered during years 1-3 reflect the environmental focus of our learning programme. They blend experiential learning with the development of thinking skills. In these early years we preserve and promote creative thinking skills and support the development of conceptual thinking skills.
Digital Literacy - our children are digital natives. We introduce them to a range of digital tools which facilitate their learning experience. Students use their skills to create original documents which can communicate their new learning to their wider family 'audiance'.
Artistic Expression - this element of our children's learning is integrated into the literacy and inquiry studies component. Young students need to express their learning. Our children create their own digital books, musicals and movies, based on their unique learning experiences.
Spanish - early learning of another language enhances brain development. We teach Spanish during these early years.
Peak Performance - delivers a Perceptual Motor Programme. Sensory integration is essential to development of young children, but it does not always occur naturally. In a significant number of children, it needs to be taught. Optimal development of the sensory motor skills underpins all learning.
Social & Emotional Literacy - Enviro School delivers 'The Brain Licence' curriculum created by the school's founder Frances Hill. It builds the children's interpersonal and intrapersonal skills. Years 1-3 work on the Values section of 'The Brain Licence'.
Elements not included within the programme are those which we consider to be the personal domain of parents. These include personal and health education, practical activities such as swimming instruction and citizenship education.
We do value the teaching of history, which we introduce in Year Three, when young brains have acquired a sense of the past.
What does the Enviro School Environmental Guardians offer my child?
Experiential learning, enhanced by structured skills development, provides a sound springboard for enhanced learning. Our Environmental Guardians early school programme enriches the young child's passion for learning which is so often lost at the school door. Alpha programmes are colourful, vibrant and engaging. Alpha honours parents as first teachers. We recognise that teaching your own child can be challanging. We provide a detailed parent suppot package which guides parents through each week of the learning year. The Alpha Environmental Guardians programme covers 36 weeks of learning divided into four terms. We provide a term by term overview of development. We also guide parents through each week of the learning programme and provide an optional weekly timetable to scaffold learning experiences.

The Year One timetable shows the structure of learning offered to students and parents.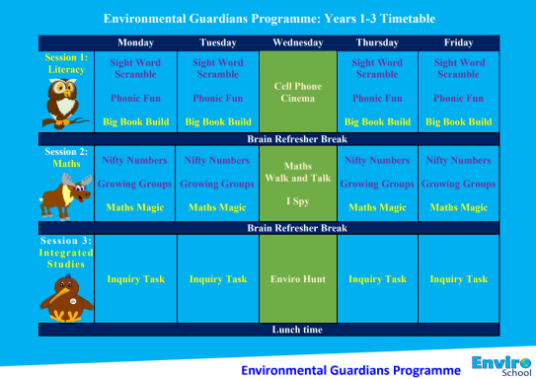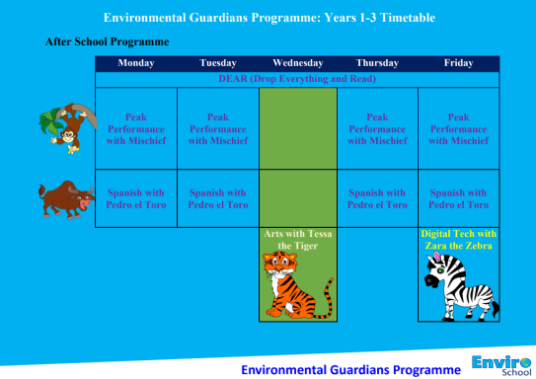 Advanced learners who already have literacy skills should consider the Alpha Plus Thinking Skills Programme.
What about my child's social interaction?
Alpha recognises the importance of social connection. The values section of our Peak Performance Programme focusses on the essential intra and interpersonal skills which facilitate social engagement. We also provide a social interaction contract which parents can use to negotiate the various social engagement activities which children can experience each week. The predominately morning learning of the programme provides time and opportunity to fulfil this vital part of a child's development.
Learning Progression
The Environmental Guardians programme is the foundational curriculum for the Alpha Primary School. When students reach Year 4, they have the preferential option of extending their learning by participation in the Alpha Primary classrooms. Students engage with their peers and teachers in real time learning. From Year 9 students enter Tutors Online, The Alpha Educational Consultancy's High School option.
How do I enrol my child in the Enviro School's Environmental Guardians Programme?

Year One
Applications are now open for the Environmental Guardians Programme Year One.
You can complete your registration for a Half Term Taster below. The Half Term Taster will give you access to Orientation Week and the first two Learning Units, comprising 5 weeks. This includes the educational programme, supporting materials and parental guidance documents. This Half Term Taster is offered at a reduced price.

Years Two to Three
These areas will be coming soon. Please register your interest for these courses using the contact form.
What is the cost of the Enviro School Environmental Guardians Programme?
Year level enrolments to the Enviro School Environmental Guardians Programme can be made per term, or for a full year (4 terms).
| | | |
| --- | --- | --- |
| | United Kingdom | New Zealand |
| Environmental Guardians Programme – per term | £150 | $300 |
| Environmental Guardians Programme – full year | £500 | $1,000 |
To celebrate our launch into the United Kingdom, a reduced-price Half Term Taster is available.
| | | |
| --- | --- | --- |
| | United Kingdom | New Zealand |
| Environmental Guardians – Half Term Taster – Year One | £65 | $130 |
| Remainder of Year One Term One (on completion of Half Term Taster) | £55 | $120 |